OEM Tango Programmeur De Clé V1.111 Avec Tous Les Logiciel
Numéro de l'article SK80-C1
Dernier cours:
€245.00
Achètez-le maintenant:
€224.00
You save €21.00
9% off
Livraison:

Livraison gratuite Livraison Express Service
Délai de livraison estimé: 3-5 jours de travail.

Détails

Poids:

0.3KG

Paquet:

24cm*18cm*5cm

( Inch:9.42*7.07*1.96 )

Retour:

Retour de remboursement dans 7 jours, l'acheteur paie les frais de retour.

Lire les Détails ?
Détails du produit

Reviews

Produits connexes

After-sales Service
OEM Tango programmeur de clé contient plein module, y compris tous les logiciels de la voiture. Vous pouvez mettre à jour l'appareil sur le site flyobd.
OEM Tango Key Programmer with All Software

The TANGO transponder programmer is developed to cover, read, write and generate the latest transponders used in the latest vehicle immobilizer technologies
OEM Tango Programmer Software Version:

1. Firmware version :V4.8;
2. Software version:V1.111;
Supported languages: English.
Operation Notes:
1. OEM TANGO can work for Windows XP(SP2 or later) Professional Version,Windows 7 Ultimate and Windows 8 Professional;
Tango software version V1.111: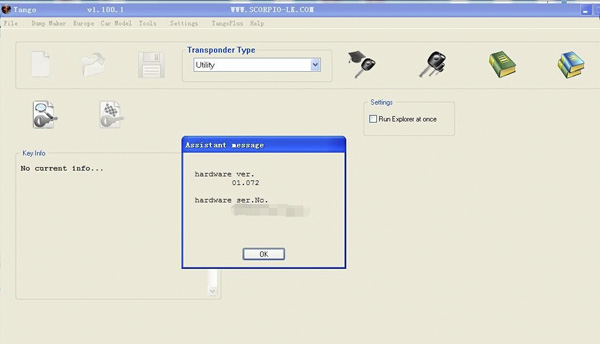 OEM Tango Support List:
Acura
Brilliance
Chang an
Chang cheng
Chery
Daewoo
Daihatsu
FAW Group
Geely
Great Wall
Honda
Hyundai
Infiniti
Isuzu
Kawasaki
Kia
Lexus
Mazda
Mitsubishi
Nissan
Proton
Roewe
Saipa
Sammand
SsangYoung
Subaru
Suzuki
Tata
Toyota
Yamaha
AD100 Out – In codes 8 digits calculator

BMW CAS Keyless Go key maker
BMW CAS remote key maker
BMW CAS unlock and write locked with unknown password transponders PCF7943&PCF7944 key maker
BMW bikes (Hi Tag 2) Key maker
DAF key maker
KESSY (Hi Tag 2) Audi , Bentley, Porshe, VW key maker
New AUDI A6/Q7 EZS (Megamos 8E) Key maker
VW Key maker
FREE Off-line Full Copy of TIRIS DST (ID60-70) onto TPX2,EH2
FREE Image generator ID70 on ID4D
Image generator ID67/68 on ID4D
Full FREE production of TP22, TP23, TP24, TP25
Package including:

1pc x Interface
1pc x USB 2.0 Cable
1pc x One Box
Quel est le sens de QC marque sur produit?
1. Le QC marque signifie que ce produit a passé letest de notre ingenieur.
2. Le QC marque signifie que le produit est de notre société.
3. Le QC marque signifie que le produit obtiendra la garantie.
Attention les risques viennent de la douane:

1. Les colis DHL envoyés vers l'outre-mer de la france (Martinique, Réunion, Guadeloupe etc. ) ont peut-être des frais de douane, merci de votre compréhension.
2. Certains produits speciaux vers la France: Lexia 3 PP2000, Renault Can Clip, Multidiag Pro, Multidiag Actia, MB Star série etc. le mode de livraison n'est que Yanwen EMS, délai de livraison est 8-13 jours. mais si vous voulez en DHL , vous devez contracter moi a temps , SVP

Contact informations:
sales@OBDstar.fr
Skype:CarOBDii.fr
Telephone: +86 18102386990
whatsapp:+86 18102386990

Online service support
facebook : https://www.facebook.com/www.carobd2.fr
Telephone: +86 18102386990
website mobile:

À propos de CarOBD.fr livraison :
livraison
Pays européens
Autres pays
poste aérienne
envrions 15-30 jours, pas de taxe
si il y a des accidents, il faut envrions 1-2 mois
envrions 1-2 mois, pas de taxe

DHL/UPS

environs 3-7 jours, par DHL, des temps, il faut payer la taxe,nous ne pouvons pas controler
attendtion:
les frais de transport sur notre site ne contient pas la taxe, prace que nous ne pouvons pas controler votre douane

environs 3-7 jours, par DHL, des temps, il faut payer la taxe

Yanwen

envrions7-15 jours, ne faut pas payer la taxe pour

Belgique, la Bulgarie, l'Angleterre, l'Estonie, la Finlande, le français, l'Allemagne, la Grèce, la Hollande, l'Irlande, l'Italie, le Luxembourg, l'Irlande, le Portugal, l'Ecosse, Slovaquie, Slovénie, Espagne, Royaume-Uni, Pays de Galles, le Danemark, la Suède, la Lituanie, la Lettonie Hongrie, la Roumanie , la République tchèque, la Pologne
Pas de service

EMS

envrions 7-15 jours

7-20 jours